Iconoclast Newsletter
Iconoclast's Online Newsletter covers San Francisco Bay Area Arts and Entertainment events and can be found here.
Writer's Muse Magazine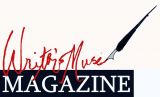 Iconoclast worked with Writer's Muse Page to publish Writer's Muse Magazine. There were a total of four quarterly issues of this seasonally themed literary magazine, which featured prose and poetry by aspiring and established authors centering around holiday themes.  The publication started in Summer 2013 and ended in Spring 2014. There was also a single print issue.
100+ Black Women in Horror
February is African American History Month here in the United States. It is also Women in Horror Month (WiHM). In 2013, as an Ambassador for Women in Horror Month, the original book 60 Black Women in Horror was born during the intersection of the two. . Over the past five years, the world women writing horror from the African Diaspora has nearly doubled. 100+ Black Women in Horror is a 2018 update, containing 109 biographies. The booklet also includes interviews with seventeen of the women.and an essay on LA Banks and Octavia Butler.
Get Exclusive Discounts on paperbacks and hardcover books when you buy directly from Lulu.com, the world's largest independent on demand printing service.
On Lulu.com –  Standard Paperback $4.95  Premium Paperback $6.60 Hardcover $22.50
It is also available at Amazon, Barnes and Noble, iTunes Store, Kobo, and bookstores everywhere for the standard price of 99 cents for the the eBook, $10 for the Standard Paperback, $12 for the Premium Paperback, and $30 for the Hardcover.
Free eBook exclusively on Goodreads.
Scry of Lust
Dark and seductive, alluring and imaginative, perverse, shocking, and at times hilarious—Scry of Lust is an arousing collection of erotica, paranormal romance, sexy poetry, and kinky tales that will spark your desire and quicken your breath. Indulge in the lustful imaginings of this diverse group of writers, all by your naughty self, or share it out loud to entice your lovers. Scry of Lust will charm the pants off of you—literally!
Profits from this collection are being donated to the San Francisco AIDSWalk, through SFGoth Team #5015, in memory of Gregory Hug.
The Kinky Writers Group meets weekly at Wicked Grounds Cafe, home of the San Francisco Bay Area's kink and BSDM scene, at the center of the City's Leather & LGBTQ Cultural District. We welcome writers of all experience levels, races, genders, orientations, and sensual proclivities.
Group: fetlife.com/groups/183690
SFGoth AIDSWalk Team: 5105 SFGOTH